Have you felt the same way as other network marketers?
My upline said that I can't build my own website and I can't market on social media
I don't want to pressure my family and friends into buying from me or starting a company under me
I don't have the time or inclination to meet people face-to-face.
Everyone I approach thinks my business is a scam, a pyramid scheme.
I was excited when I first started, but I had no bites, so I gave up.
Find out how a personalized Brand Yourself Strategy Session can send you and your business into the stratosphere …
You want to start a business, but you don't have a clue where to begin.  The more you think about it, the scarier it gets.
Even if you're already in business, you need to create (and maintain) a solid business plan.  Why you do want to start this business?  What kinds of things are super important to you?  How much money do you need to make?  Who are your clients?
Without a map, how are you ever going to get to where you want to be?
This newly updated eKit also contains the Lean Canvas version of a business plan.  This is da-bomb.
It's a one page business plan that I find is not only a lot easier to put together, but also more USEFUL to you in your business.  It can help you determine your specific niche and your business model.  It's killer.
What if you could
create products and services that
sold themselves?
Determining your target market is not what it used to be and I've seen so many entrepreneurs struggle with their business simply because they don't know how to talk to their customers.
In fact, it's one of the biggest reasons that businesses fail!
Learn from my mistakes.
This 3 part class will walk you through everything you need to know and includes a private Facebook group, a worksheet to determine your customer avatar and a course workbook.
---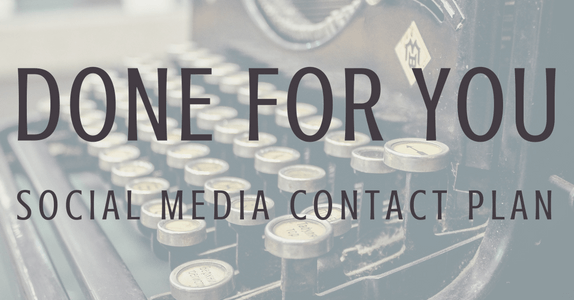 When I started my business, I used Twitter as a means of getting clients.  (read: my only source of clients).  In 2009, everyone was doing the same thing – replying to anyone who mentioned the word virtual assistant.  I started doing something that set me apart, and it filled my dance card in 6 months of opening my doors.
This is a done-for-you Social Media Contact Plan.  Inside I'm giving you my exact original plan that I used to send to people as well as a modernized and fully updated copy that you can fill in with your own details to create a gorgeous proposal to anyone that you want to reach out to.
Tweak it with your words, your personality and your branding.
I've also included a swipe file so you'll know exactly what to say to them when you connect on Social Media, in the email to contact them, and in your follow up.
Most network marketers give up on their business because of one of two reasons:  they don't have the time to put into building the business and/or they never end up making any real money.
Over the next 7 weeks, I'll show you step-by-step just how easy it is to set up an online presence for your MLM business.  Anyone can do this!
I'm teaching you everything I've learned over the past 10 years.  You'll have the tools, confidence and strategies to a business to be proud of.
At the end of the course, you'll have a perfected sales funnel to prospect anyone in the world and find yourself with more customers & team members than you ever thought possible.